A few weeks ago I started looking for another job. My current job, until the end of the month, Boeing has selected me to be laid off. I didn't tell many people because months into this job I did not feel the IT department had a grasp on mobility or device management. With COVID and the shift to working from home by most companies, I knew that I would find an opportunity quickly!
I mentioned before, I always wanted to get into education. Education seems a way I can merge my passion for service and love of mobility!
During my search for a new opportunity, I came across "Manager (Digital Bridge Program)" for the Atlanta Public Schools. After reading the post over because the name wasn't like other titles I would search for (Ex: Mobility Engineer, Mobile Device Manager, Mobile Device Architect). I noticed my past experience and certifications with Microsoft 365, Google, and VMware in Enterprise Device Management could be used here!
Unfortunately, this job requires a Bachelors's degree and having previously applied to APS and BMS (Bristol-Myers Squibb - Associate Director, Digital Capability Management, Mobility) these companies still require a Batchelor's over years of experience and certifications.
APS does say in the application that a 4-year degree is required, but so has many of the other jobs that I applied for and successfully got - I apply anyway and hope they look at my experience. Especially because I don't know of one IT Degree that teaches mobility or enterprise device management.
I found the contact information for Atlanta Public Schools' Department of IT Executive Director but before contacting him, I did a search on APS's Digital Bridge Program. Thankfully this program has a dedicated site and news coverage.
I learned so much about the program. T-Mobile's EmpowerEd Program awarded over a million dollars to Atlanta to help close the digital divide.
Internet, even in a major metro area like Atlanta is hard to come by. In 2016, a Pew Research Center study found one-fifth of adults in low-income households did not have access to broadband Internet. This program helps solve this by providing a laptop and Mifi / Mobile broadband device.
The Mifi is programmed to only work with the laptop.
I thought a durable and cost-effective Chromebook with 4G would be amazing. Chrome Unboxed recently posted a review about a new Chromebook released by Sector 5.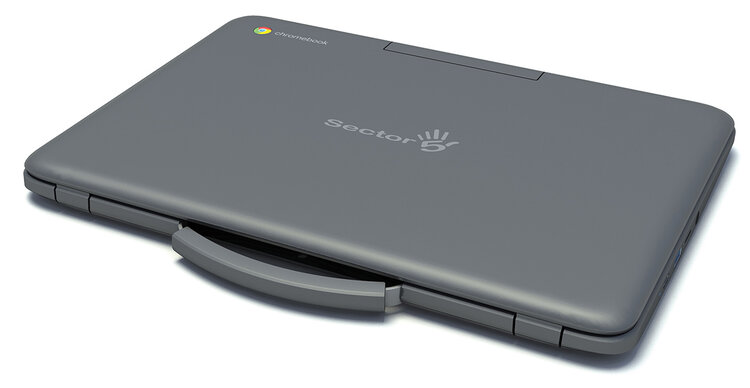 Select specs from Sector 5:
Chrome OS
Display: 11.6" 16:9/HD (1366x768), 10-point multi-touch, 180-degree hinge
Retractable carry handle and non-slip body texture for easy transport
Stronger, thicker, reinforced cover to reduce damage from pressure and impacts
Reinforced ports and hinges for prolonged life
Processor: Intel® Celeron® N4020 Dual-Core 1.1GHz, up to 2.8GHz Burst
Graphics: Intel® UHD Graphics 600
Storage: 32GB1 eMMC
Memory: 4GB LPDDR4
Wi-Fi: 802.11a/b/g/n/ac
Bluetooth: BT5
Camera: HD 720p, 180-degree rotating, LED indicator
Ports: 1x USB 3.0, 2x USB-C, microSD card reader, cellular SIM card, Kensington Lock
Keyboard: Spill-resistant, QWERTY for Chromebook
Weight: 2.93 lb (1.33 kg)
Service: 1 Year Manufacturer Warranty
LTE / Modem specs:
Mobile: Fibocom L850-GL 4G/LTE/WCDMA Modem
LTE-FDD 450Mbps DL, 50Mbps UL, Bands 1-5, 7-8, 11-13, 17-21, 26, 28-30, 66
LTE-TDD 347Mbps DL, 30Mbps UL, Bands 38-41
Carrier Aggregation on 2 or 3 LTE Bands
WCDMA Bands 1, 2, 4, 5, 8
I wish that these devices had an antenna port. Looking up the above Fibocom modem, a passthrough seems possible. You never know where the kids or students will be using this device. Might be in a basement.

According to their Twitter, they also offer free training to educators, K-12, college students, and enterprise that purchases from them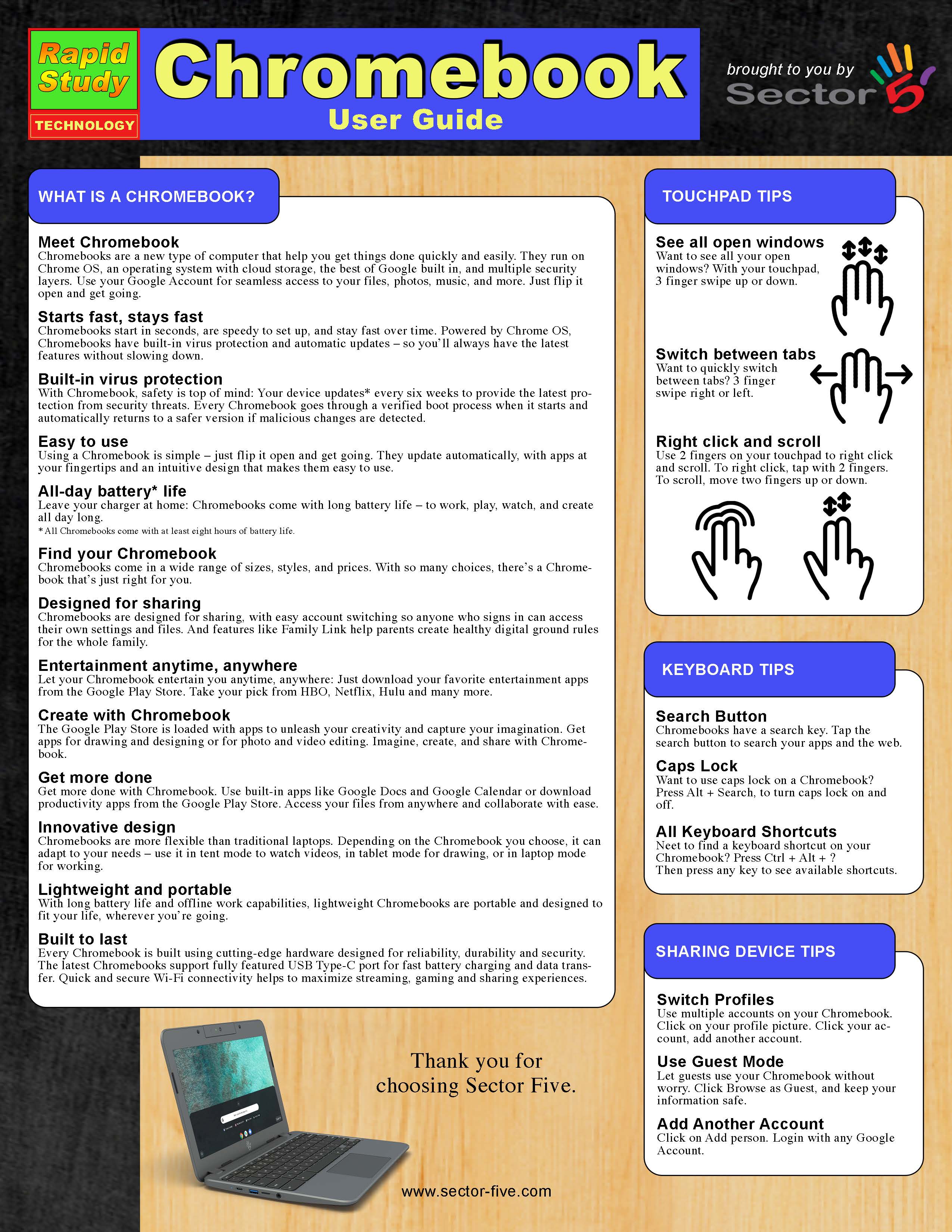 This is great for a small school... but even for large districts like Atlanta. I found a list of apps on the Device Bridge program site, and it had a bunch of HTML on it - It was a PDF! (I created this whole list of action items I wanted to mention in case I got an interview - I got to stop doing this, lol.)
A lack of documentation has been a problem at all my previous jobs. Lucky for them, I don't mind creating websites / intranets / content.
ATL also deploys Windows devices. I think chrome is better suited in education unless you can support the IT headcount and infrastructure for Windows 10. I would consider moving high school or at least 12 grade to Windows laptop so they can get the full feel for the operating system with the most market share.
HEY SECTOR 5, here is a freebie, feel free to send me some stock for it!

Create an intranet / suport docs in Google Sites. Most people, if not all Chromebook bulk orders will be using Gsuite, you can copy the Google Site to their Google Site and boom! You have made them an instant intranet they can customize. Make all the traning in Google Docs so the end user IT companies can brand, edit if needed, and distribute! S5 can crush this low cost market. - Oh, and an antenna port on the E6!
Now, I'm going to throw out some crazy ideas for a company to make a bunch of funding.
First, when I lived in NYC, and I think this is still going on, they had an afterschool homework help TV show. This should come back during COVID for everyone with a community access channel... and for the last 5 minutes of the show broadcast a data stream that the Chromebook can pickup for school news and other things mentioned below that can be in a one-way transaction.
Second, Applications over the air! Some type of digital tv to data USB modem so that even if it's one way. These devices can get near up to the minute current events, school news (like food distribution and floating wifi access points are), weather, and appointments (to meet with a teacher or tutor). This can also be used to deliver apps overnight like how the Intellivision downloaded games using PlayCable... app data was sent in a cycle, and the hardware knew when to listen grab it.
2.5, use FM! Microsoft already did this, it was called DirectBand, I'm sure this early 2000s tech can be improved.
2.7, use satellite! The Super Nintendo in the 90s did! XM / Sirrus has this tech compact now. Picture this, kid puts the satellite modem in the window at night and it should have all the system, app, and lessons for the next day. During the day, speed and bandwidth should be fine for the two-way activities below.
Third, bring back the dial-up modem!! Bring back IRC and BBS! Let kids talk to classmates and work on homework using bulletin boards and chat with IRC or Google Hangouts. Cities should have telephone providers allow free calls to dial in and grab email, new assignments, and etc.
These ideas will take time and money... but can live on for use after school when that on-site courses resume.
Manufacturer: https://www.sector-five.com/sector-5-e4-lte
Press Release: https://finance.yahoo.com/news/sector-5-announces-discount-pricing-154300776.html
Source: https://chromeunboxed.com/sector-5-e4-lte-review-a-new-bar-from-edu-chromebooks/